We are delighted to announce that two of our accountants have been shortlisted in their respective Exam Stage categories at the Northern Society Presidents' Awards.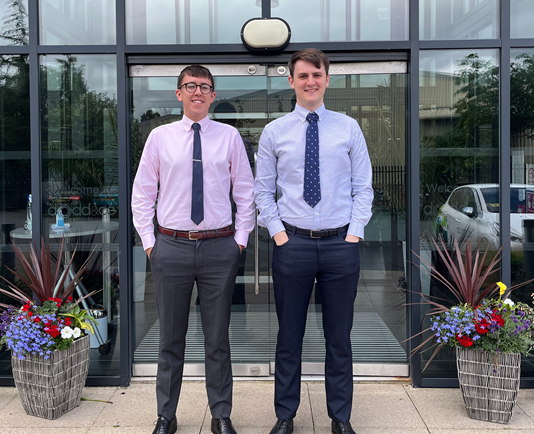 Fully qualified Chartered Accountant Elliott Brown has been nominated for the Advanced Stage, and part qualified Chartered Accountant Jack Bullock is nominated for the Professional Stage. The awards will take place at a black-tie dinner to be held in Newcastle in October.
Both are over the moon, to have been nominated for demonstrating; 'Academic Excellence' by finishing in the top 20 of highest overall marks in the Northern Society Order of Merit and 'Exceptional Contribution' to their organisation.
Elliott, 25, of Carlisle passed his final ACA (Association of Chartered Accountants) exams in the summer of 2021. After completing his A-Levels at William Howard School, Elliott went on to study Mathematics at Newcastle University. However, despite achieving 'firsts' in the first semester, Elliott decided University was not for him. He said, "Accountancy was always an eventual career path in my mind. I contacted Dodd & Co and was delighted to be offered an apprenticeship to study my Level 3 and Level 4 AAT. I went on to do my Chartered exams and I am now fully qualified, managing my own allocation of clients alongside many other responsibilities."
Jack, 26, of Carlisle is currently studying for his final ACA exams this coming November. Jack attended King Edward IV school in Morpeth and decided to study Economics at the University of York. Following graduation and after making the decision to move to Cumbria, Jack applied for a graduate position with Dodd & Co. He said "The position with Dodds seemed perfect as it offered me the chance to study for my ACA qualification whilst gaining hands on experience across a wide range of different industries. Relocating to Cumbria has given me a great work life balance with the opportunity to work hard and build a brilliant career but also enjoy my free time out in the fells."
During their time with Dodd & Co, both Elliott and Jack have gradually taken on more responsibility, becoming valuable senior members of the team gaining experience in several areas including family businesses and healthcare. Both also enjoy regularly helping to mentor and train the junior colleagues of the firm.
Heidi Marshall, Partner at Dodd & Co, said "We are extremely proud of Jack and Elliott continuing to excel in their achievements. Their drive and eagerness to progress at Dodd & Co truly shows what a credit they both are to the firm. They very much deserve their nominations, and we wish them both the best of luck for the final."
The Northern Society Awards will be presented at the Northern Society Business and Awards Dinner on Friday 14 October 2022 at the Grand Hotel, Newcastle upon Tyne.
Both Elliott and Jack began their accountancy careers within Dodd & Co's training school. Applications are still open for our September trainee intake. For more details, check out the careers section here.